Free Handicap Calculator
Calculate your Handicap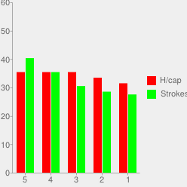 An important step in becoming a serious golfer is to calculate your current handicap and then start to track it. The Golf Mentor handicap tracker is an easy way to calculate your handicap. You simply post your game results. Once you have posted three or more games it will calculate your handicap. The Mentor handicap goes up to 99 strokes over par, so it is perfect for beginners. The Golf Mentor is much more than a handicap tracker, it is the ultimate learning system for golf. Currently there is a day free trial of gold membership, no credit card needed.
Benefits

You can learn more quickly with less effort.

You can have a online handicap that goes up to 99 over par, so it is useful even if you are a beginner.

You can set goals, so ensuring your learning will be guided by a clear aim.

You can post practice sessions and games in order to capture key aspects of what you are learning.

You can take a set of scientifically designed challenges, that cover the full swing, approach shots, near the green, and putting.

You can analyze your game to identify strengths and weaknesses.